Last weekend was an amazing step forward in the world of marathons and running science. In what had been billed as pretty much an experiment and attempt to crush barriers (not to send a world record), Eliud Kipchoge became the first man to run a sub 2 hour marathon – 1:59:40, to be exact. So, what things helped him with this amazing accomplishment? Find out what helped Eliud run this race to see how it can help you!
5 Things That Helped Eliud Kipchoge Run a Sub 2 Hour Marathon
Link: He Did It! A Sub 2 Hour Marathon Has Been Run!
Note: In no way does this post attempt to take anything away from Eliud's amazing effort! He is the greatest marathoner ever – not just because of this – and was likely the only person in the world that could have done this. INEOS went to great lengths to make sure that everything was perfect for this attempt so we will take a look at these things and how they could have helped shave off the second. Besides, it is part of the spirit of the INEOS 1:59 Challenge – to inspire and educate for future runs.
So, take a look at some of these factors that helped Eliud run his amazing event to see how you can better plan for your future races using some of these things as well.
1. Pacers
This is one of the big things that prevented the INEOS 1:59 Challenge from even being considered as a world-record attempt – the pacers that seamlessly transitioned throughout the race to help Eliud with his goal. These pacers did an amazing job at a couple of things. They ran in a V shape which helped Eliud to better be able to draft off of them and to block the wind.
Having pacers transition every 5KM also helped to keep fresh legs on some of the fastest runners in the world as they worked to lead Eliud to the sub 2 hour marathon. Not only did that help but it also was a great way to break up the 42KM event for Eliud. Marathoners at his level do not listen to anything during a race and really have an unbelievable mental toughness but it is also a helpful thing to click off a 5KM distance every 14 and half minutes or so and see a fresh group of your friends coming in to help you.
For Us: Having someone in front of you to help block the wind can be a huge help. Next race you are in, try to slot behind a larger runner to get a break from a particularly windy day and to conserve energy. Also, finding someone to match your pace with, or an actual pace group, can be a huge help to keep you on pace.
2. Fluid Delivery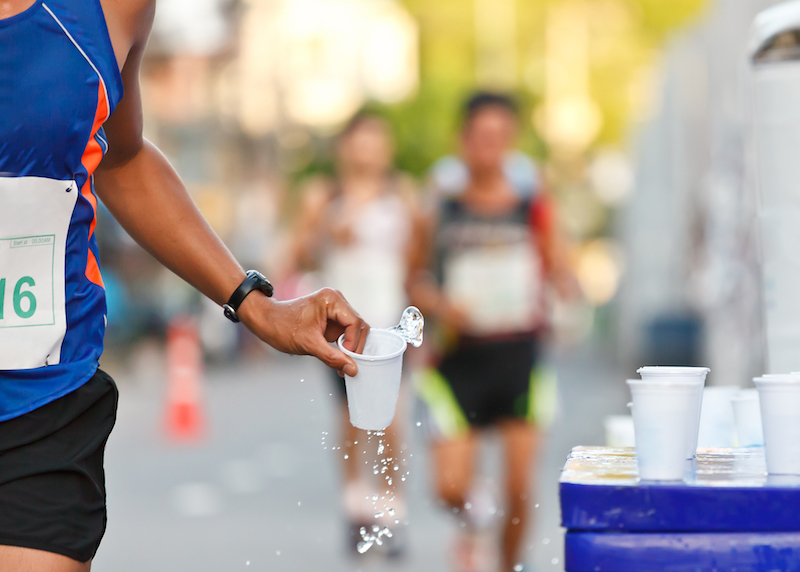 Eliud did not have to lose valuable seconds by taking his own water off a table!
This was another thing that helped Eliud and also prevented the event from counting as a world record. In a race, even the elite runners have to go to the drink tables to grab their drinks. For elites, those bottles are marked and ready for them so they are not just grabbing water cups (most of the time).
Eliud only took his fluids a few times but even 4 times of angling towards a table to grab a drink would have added at least 2 seconds to each time he did that. That may not seem like much but 4 fluid stops would equal between 6-8 seconds that he saved in this event by having the bottles delivered to him on bike.
For Us: When you are training, use your training runs to plan out your fluid strategy as valuable seconds can be lost at crowded water tables. Maybe carry your own bottle for the first few miles so you are not getting stuck with the hordes of runners early on.
3. The Course
This was a big one. Organizers searched all over the world to find the absolute best place for this sub 2 hour marathon attempt and, after considering a ton of data, they selected Vienna for this historical attempt.
But, not just Vienna but a section of a road that offered great tree cover to help keep the wind lower as well as a great road that the organizers spent a lot of money resurfacing to make it be as even as possible. They coated in a couple of months ago and, one of the announcers said, it had more of the feel of a track as a result.
Along with this careful selection was the day and time of the attempt. They watched weather models and did not even set the exact day until the week of or the time until the day before to make sure that everything would be as perfect as possible.
Of course, none of this happens in an actual marathon race! Boston Marathon runners know how completely fickle the weather can be from having a great tailwind that helps to propel elites to the fastest Boston times ever to horrible storms that take out many runners. Marathon day comes and you have to deal with whatever the weather brings. Plus, you are on 26.2 miles of road that may not be in the best of conditions.
For Us: Find a race that has a course that works with your strengths. While a huge downhill course (like St. George) may sound great, consider the beating it will do on your quads as well. Find a course a that works for you and has a seasonal timeframe that is good for your body.
4. The Tangents
In a race, the organizers measure out the exact 41.195km of the course and do so on what is called the "tangents" for the course. If you, as a runner, were to run along the tangents, you are running the shortest possible distance of the course and what would measure out to the 26.2 miles.
This is why runners will often find their GPS watches showing that they have run 26.5 or more miles over the course of a race (that and slight errors in GPS tracking due to the GPS chips, buildings, overpasses, etc.). For elites in major marathons, they follow the line that has been marked to show the tangents. But, it is the shortest possible distance so there are some hard turns.
For Vienna, the traffic circles that Eliud and his pacers looped through actually had the tangents marked in a gradual curve in the middle of the road. It prevented Eliud from having to do sharp, tight corners. But, he had to stay completely in the double lines or the attempt would be disqualified as inside those lines were the exact measurements of the course.
For Us: In your next race, run as close to the corners as possible on turns as it will cut down on the total steps you will take over the course of the race. Just don't jump curbs as that is shorter than the actual tangents!
5. The Shoes
This is something that people were arguing all about on Twitter after Eliud's amazing run – his new, "secret" shoes from Nike. After his previous sub 2 hour attempt in Italy in 2017, Nike released the shoes they had made for it – the Vaporfly 4%. The "4%" part of the name is there because the shoes were supposed to improve runner efficiency by 4% – and according to an independent study, they did a very good job at doing that.
For the INEOS 1:59 Challenge, Eliud showed off the shoe he was using and it was something that has not been on the market yet. Believe in the Run did a great deep dive into what the shoe actually is and what makes it so special.
Now that Eliud broke 2 hours wearing these shoes, I think it is just a matter of time before Nike markets it like crazy to runners that feel they can use every single second out of their races. So, it should not be too long until these hit the streets (probably at a steep price) and people get to try them out for themselves.
Shoe companies have been working for a long time to make a shoe that would utilize the runner's gait to the maximum effort and improve on the runner's efficiency. Nike has been doing very well in this area with 5 of the fastest marathon times being run in Nike Vaporfly shoes.
For Us: Your footwear is very important! Make sure you are using a shoe that gives you the support and cushioning where you need it. Just because these shoes worked for Eliud does not mean they will work for you. Go to a local running store to be properly fitted for the best shoe for your foot type, weight, and race.
Summary
So, what does all of this mean? Does it take away from Eliud Kipchoge's amazing 1:59:40 run of the marathon distance? I honestly believe it does not. From the beginning, it was meant to be an event to smash a barrier, to produce data that could be used to help the current and future fastest runners in the world get even better. It achieved this – Eliud achieved this.
For Us!
But, it is interesting to see how each little component, by itself, could have prevented him from reaching this goal if they had not been properly planned for. This shows that for us mere mortal runners, it can definitely be a big help for our own racing goals to examine closely which races we pick, the shoes we wear, the season the race is in, and even train our bodies for a better fluid plan.
I know there are already some things that I want to start working on more myself after watching Eliud's amazing marathon feat. In fact, I went out for a run immediately after the race ended. I believe this was something that was also a part of the list of goals for Eliud – to help motivate others to get out there. Guess what? It has worked for many!
Featured Photo: Thomas Lovelock for The INEOS 1:59 Challenge
Some of the links on Running with Miles are affiliate links that pay a commission if a purchase is made. Running with Miles is a participant in the Amazon Services LLC Associates Program, an affiliate advertising program designed to provide a means for sites to earn advertising fees by advertising and linking to amazon.com.